Heather Dune Macadam, Director and President
Heather Dune Macadam's first book, was RENA'S PROMISE: A STORY OF SISTERS IN AUSCHWITZ, is a memoir about the 716th woman in Auschwitz. Published by Beacon Press in October 1995, when Macadam was still an undergraduate, it was nominated for the National Book Award, the Christopher Awards, the American Jewish Awards and the National Library Association Awards.
As commentator for NPR, Ms. Macadam's quirky essays can be heard on ALL THINGS CONSIDERED. Additionally, she has been published in The New York Times, Newsweek, Marie Claire, The Guardian, The Daily Mail, YOU Magazine, The Advocate and RACING HOME: SHORT STORIES BY AWARD-WINNING NORTH CAROLINA WRITERS (Paper Journey Press). Ms. Macadam has been a guest artist at Pen American's Reading and Writing Program. Guest artists to her own classes have included: Billy Collins, Frank McCourt, Melissa Banks, Roger Rosenblatt, Matt Klam and Dava Sobel.
Stephanie Wade, Assistant Director
Outside of work, Stephanie enjoys being outdoors-walking, hiking, camping, biking, and swimming—and studying permaculture-a strategy that designs homes, farms, and landscapes so that they work in harmony with local materials and conditions.
Her dissertation defined the concept of narrative ecology, which posits all narratives as living systems, systems that, like our physical homes and earthy environments, shape our experiences and also respond to our actions, and has further developed into academic research that employs principles of permaculture so she can better understand college writing. At the heart of her teaching and research is a desire to help students see the choices available to them as writers and thinkers.
Simon Van Booy, Board Member
Simon Van Booy was born in Great Britain and grew up in rural Wales. He is the author ofThe Secret Lives of People in Love, Love Begins in Winter (winner of the Frank O'Connor International Short Story Award) and the novel, Everything Beautiful Began After.
He is the editor of three philosophy books, titled Why We Fight, Why We Need Love, and Why Our Decisions Don't Matter. His essays have appeared in the New York Times, The Daily Telegraph, The Times, The Guardian, and ELLE Men, (China), where he has a monthly column. He has also written for the stage, National Public Radio, and the BBC.
He teaches at SVA in Manhattan, and is involved in the Rutgers Early College Humanities program for young adults living in underserved communities and teaches fiction at The Rena's Promise International Creative Writing Camp.
He was a finalist for the Vilcek Prize for Creative Promise, and his work has been translated into thirteen languages. His latest novel, The Illusion of Separateness will be released in May of 2013.
Lucas Hunt, Board Member
Lucas Hunt grew up in a Grant Wood Iowa landscape of baseball parks, barnyard barbecues, and Lutheran Church Sunday school. The son of an oil well driller, Hunt dropped out of college and wandered the United States, Mexico, and Europe. In Paris, he lived in an apartment above Shakespeare & Company Bookstore. Hunt attended the Iowa Poetry Writer's Workshop. His debut collection of poetry, Lives, was published to critical acclaim, and he has been published in Slice, Confrontation, Anderbo, and Proteus. Hunt's second book of poetry, Light on the Concrete, was published in 2011. He works as a literary agent and lives in East Hampton, New York. He is working on his next volume of poetry: The Muse Demanded Lyrics.
Simon Worrall, Board Member
British journalist and author of The Poet and The Murderer brings his journalistic expertise to camp this summer. He has written for publications all over the world, including National Geographic, Smithsonian, London Times, The Guardian, and Paris Review, and taught English and writing in China, Germany and America.
Simon spent his childhood in Eritrea, Paris and Singapore and is trilingual. Students fluent in French and German may wish to come to his classes, where he can be helpful in translation or a multi-lingual approach to writing. Chinese students may even enjoy his poor attempts at Cantonese! This Simon will teach journalism.
OUR COUNSELORS
Senior Counselor, Anjelica Whitehorne, has worked as a camp counselor for six years. Our counselors are college students who have either worked as RAs in college dormitories or camp counselors at other camps. Quinipet Camp runs background checks on all staff, as well.
All of the Rena's Promise Camp counselors have studied writing with Heather Dune Macadam and are dedicated to creative imagination, creative writing and creating a sustainable society.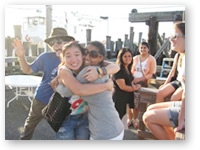 We will have counselors on hand 24/7 who work with our participants both in the creative writing workshops, on our field trips and sleep in the cabin, so our workshop participants are fully supervised. One of our counselors was just named A Leg to Stand On's Teen Ambassador, for raising over $5,000.00 for amputees from the earthquake in Haiti.
There will be male and female counselors for both boys and girls. The cabin sleep 30 in separate rooms with bunk beds. There will be counselors sleeping upstairs with the students and boys and girls will be separated.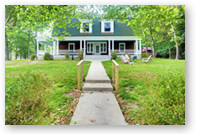 Our Cabin is called the JESSE LEE HOUSE
House parents, Heather Dune Macadam or Stephanie Wade, will be on hand at night to make sure that participants are fully supervised through the night, as well as having counselors who will sleep onsite.
Quinipet Camp and Retreat Center has been in operation for 63 years and provides us with not only one of the most beautiful places on earth, but security, meals, lifeguards and extracurricular activities, like hiking, swimming and best of all cook outs! Quinipet is the perfect place for finding one's creative muse.
If you have additional questions, please do not hesitate to contact us at renaspromise@gmail.com or CALL 631-728-21608