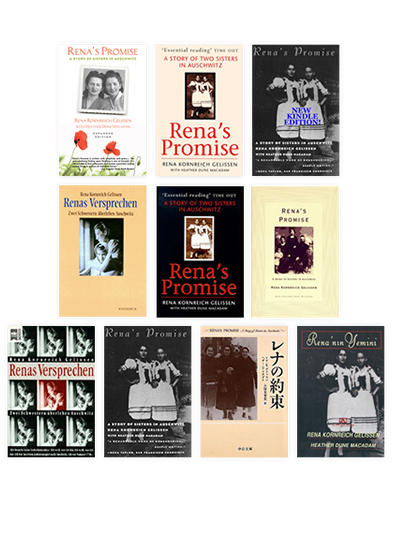 Editions
We are so grateful for the continued interest and appreciation of Rena's Promise. To date the book has been translated from English into 3 languages and continues to be on the reading list of several leading academic holocaust programs.
New Japanese Edition – 2011
Turkey, Atlin Kitaplar, 1999
Book of the Month, Germany, Knesebeck, – September 1997
United Kingdom, Weidenfeld and Nicolson, 1996
United States, Beacon Press, 1995
Nominated for:
The National Book Award
The Christopher Award
The American Jewish Book Award
The National Library Association Award
Bibliographical Citations (partial list):
Dailey, K. (2009). Three models for approaching literatures of trauma. American Reading Forum Annual Yearbook [Online], Vol. 29.
Nowak, Susan. "In a World Shorn of Color: Toward a Feminist Theology of Holocaust Testimonies." Women and the Holocaust: Narrative and Representation. Esther Fuchs, ed. Oxford and Lanham, Maryland: University Press of America, 1999.
Philippot, Raymond and Michael F. Graves. Fostering Comprehension in English Classes: Beyond the Basic. NY, NY: Guilford Press 2009.