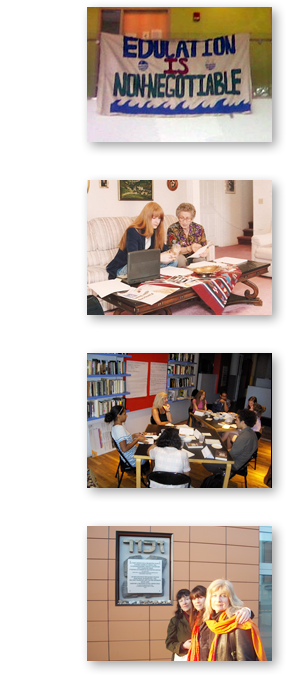 Education - For Students
"OMG I'm so depressed I have to go study the #Holocaust..." you tweet from your classrooms or on Sunday nights, when I myself am on Twitter.
I can hear you saying it. It's SO sad. SO depressing. What's it to do with me? I'm not Jewish. I'm African or Cherokee or Cambodian or Bosnian. It happened ages ago. Why should I care? What's it got to do with me?
Most of you are here because of your school curriculum, you have a project or a paper to finish and this is a stop on your research express. (PS make sure you cite me correctly and don't plagiarize!)
My favorite response to tweets like the one above is to say something like: Rena loved young people. She adored your energy and your feistiness and your ingenuity... Or If you met Rena she would have hugged you for studying the Holocaust, then talked your ear off. She loved to talk to young people.
She was not much older than you are right now when her world changed and she faced prejudice, racism and hatred that she never knew existed. For many of you, prejudice, racism and hatred are common incidents in your lives. Perhaps your own cultural history includes the kind of genocide that affected your grandparents, parents, maybe even yourselves. And that is wrong. Nobody should be the victim of genocide, let alone racism or prejudice.
Rena wanted a world where no one suffered for who they were or what they believed-no one. She believed we could make the world like that too. She believed that because she believed in the power of young people to create change.
Remember this, if you find yourself picking on the weird kid in class: Rena would have challenged your bullying. She would have stood beside the oddball out and defended him or her, no matter who that person was. Do you have the courage to do that? That is what she expects of you, of me, of all of us.
How we think about the Holocaust is important—it is a lesson in courage, morality, loyalty. It is not simply horror. Sometimes, Rena would say to me, "I don't want the reader to know that." She wanted to protect you from the horror. She wanted you to focus on all the people that helped her survive, not all the people who tried to destroy her. So let's change how you learn this material, so you can see it as Rena did-a way to create a world where NO ONE EVER suffers from racism, prejudice or hatred again.
Rena's dream, after she kept her promise to her Mama and her sister, was to make another promise to you. That is what we are trying to do here... keeping her promise to you to make the world a better place—for all of us.
Peace, Heather Dune Macadam