Creative Writing Camp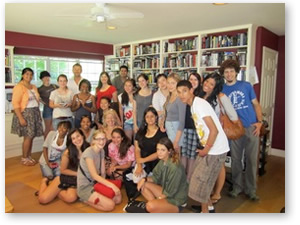 The Rena's Promise International Creative Writing Camp is a one week intensive writing program for young people between the ages of 14-17, who want to explore their own unique gifts as writers in prose and poetry, fiction and nonfiction in a camp setting with other serious teenage writers. Come experience the rigors of the creative writing workshop while working with and meeting professional writers and editors.
Created to further the vision of Holocaust survivor Rena Kornreich Gelissen and in honor of her memory, Rena's promise is a promise to create a more ecumenical world unhindered by prejudice, racism or hatred by bringing young people together from all walks of life and providing them with a place to develop the cultural and creative voices of Generation NEXT.
Afternoons will be a combination of meeting professional writers and enjoying all the Hamptons has to offer-swimming off the beautiful shores of Shelter Island, going on field trips, kayaking, cook outs, and sleeping in a cabin under the pines. This is a true sleep away camp experience devoted to giving young people the space to write and explore writing among like-minded people.
Join Us This Year!
Residency for 1 week: $1,200.00
Day Student (incl. lunch): $600.00
Come Join Us!
Heather Dune Macadam has inspired and empowered my daughter to become a better writer through her creative curriculum and thought provoking discussions. She is passionate in her teaching of writing and develops a strong confident voice within her students. She goes above and beyond the call of duty in promoting her students' work. Her warm and humorous spirit coupled with her knowledge and experience has given my daughter the tools and inspiration necessary for her to become a successful writer. I have never seen my daughter more excited to return to any other workshop!
Donna Troisi, NY
I define my life in two parts. BC and AC before Camp and After Camp.
A Happy Camper!
Endorsed by PEN AMERICAN Writing Institute for Teens
The RP Camp uses facilities at Quinipet Camp Ground to see facilities and Jesse Lee House where we will be
located please visit: http://www.quinipet.org/